Every Monday 7-9pm and Saturdays 2-4pm Check the schedule here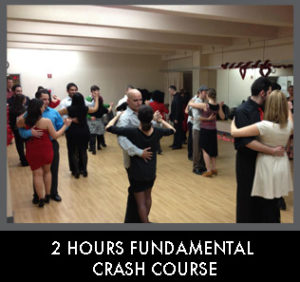 Tango Crash Course for Beginners is an intensive two hours crash course for people who want to undertake the challenge of learning all the basics of tango in one day. Students will be introduced to all of the basics they need to dance with elegance and style at milongas.
No partner needed

No tango experience required

Leather soled shoes are required
Takeaways:
Fundamentals
Posture, embrace, feet positions
Musicality
Connection
Navigation
Caja continuada
Baldoza
Paso basico
Basic Combinations
 REGISTER AND BUY in advance and save $5! $35 in advance, $40 at the door.