Live and enjoy Buenos Aires like a "Porteño Tanguero citizen"
The proposal of this tour is to live the Tango day by day like Sergio Segura does in Buenos Aires. Sergio will shares with you his social life, give you tips about how to feel "included" in the social Tango environment. Sergio will also teach you how to dance in Buenos Aires, and the local tango etiquette. This experience includes:
"Discovering the Underground Tango": Places that are not advertised for tourist,

"Far away" very traditional milongas: Places with the traditional etiquette ,

"Day time" Tango: Tango is not only nigh time, there are many tango in the afternoon and early evening, also at parks and the street.
Proposed days Marc 23rd to April 1st
9 days, 8 nights
This group is limited from 4 to 20 people
2- Tailored Tango Experience (By appointmen)
Sergio Segura is in Buenos Aires from December to end of March and he is available for The Tango Experience by request. From one to several days, the experience include a series of private classes with Sergio about how to dance in Buenos Aires, going out to milongas, practicas, group classes with Argentineans, Tango shows and other seasonal activities. Contact Sergio at sergioseguraproductions@gmail.com
"The BA Tango experience with Sergio was so much fun! I saw the beauty of the Argentine culture, its people and the joy that tango can bring to one's life." –Nicholas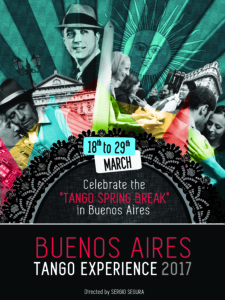 Strictly Tango NYC invites you to a unique opportunity to immerse yourself in the beauty, passion and elegance of tango in
the streets where it originated. Begin your journey from the hand of local; Professional Dancer, Producer, and Choreographer, Sergio Segura, and enjoy special workshops, milongas,  practicas, city tours of the breathtaking Buenos Aires, and more! STNYC's Buenos Aires Tango Experience is truly one-of-a-kind experience to rediscover Tango from its roots.
Gender balance will be arranged for recommended teachers workshops.
Activities Include: (program TBA)
Seminar: "how to dance at Buenos Aires milongas"
12 hours of classes with Sergio Segura and Master Teachers selection. Includes
– Body awarenes, condition and control applied to Tango
– Finding the right embrace
– Navigation in crowded floors
Milongas of Buenos Aires every night

San Telmo Visit

Regular Prácticas

Group Tango classes with selected local teachers

Buenos Aires City tour

Welcome cocktail party at Sergio's house

Tango history lecture by Sergio Segura

Etiquette at Buenos Aires milongas lecture

Tips on how to be a safe tourist in BA by Lic. Marcos Maggiori

SPA day!

Tango Dinner and show

Farewell Lunch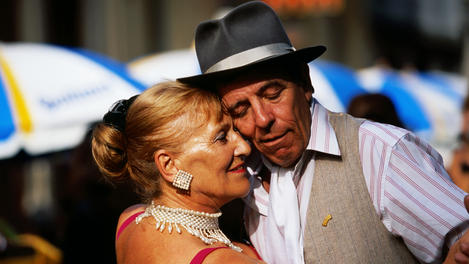 Payment form: Checks, cash or Credit Card.
Refund Policy:  95% Refundable until February 15th 2017, 80% refundable until March 15th not refundable after
Flights, accommodation, transportation and meals are not included
IMPORTANT: 
1- Travel insurance is required.
2- Reciprocity visa fee is NOT NECESSARY
Additional Services
We will help you arrange the following services:
Travel in Argentina to different locations (Iguazu Falls, Mendoza, Salta, Glaciar, Usuahia and other destinations)

Local Atractions (Visit to Estancias, Tigre, Colonia and other seasonal atractions)

Taxi dancers (very important. We will get the best ones for you)

Private classes with Sergio Segura or guest teachers

Personal Shopper guide

Aesthetic consultation and treatments

Ontological consultation
Optional Services
We will assist you with the reservation of the following services (provided by Marcos Maggiori, tourist agent)
Transportation to/from airport

Flight tickets

Hotel

Tango shows

Day in Tigre or other tours

Car Rental

Travel insurance (mandatory)